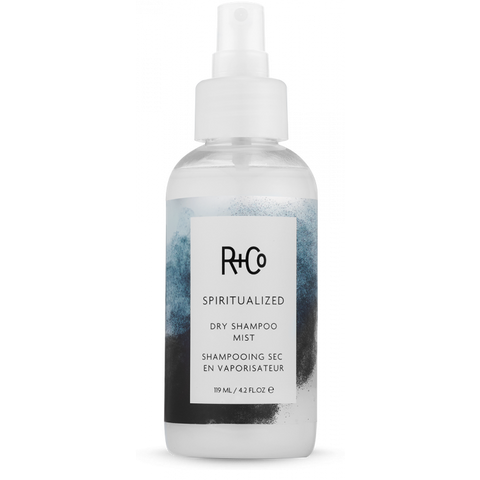 R+Co SPIRITUALIZED DRY SHAMPOO MIST
Details: Skip the shower. Use SPIRITUALIZED to remove buildup.
Transcend lifeless hair with SPIRITUALIZED. This dry shampoo mist has a revolutionary micellar formula with suspended cleansing powder that leaves hair and scalp feeling exceptionally clean.
Good for: In between shampoo cleansing, to help remove build up. Soothing for itchy or dry scalps. Cleansing while wearing braids, weaves and wigs. Refreshing hair.
Fragrance: ROSY EYED - A spirited unpredictable scent. Bergamot, Wild Fig, Cyclamen, Lotus Flower, Cedarwood, Tonka Beans
Vegan + Cruelty-Free
How to use: Shake well. Section hair and apply 1-2 pumps 6-8" from roots. Let sit for 30-45 seconds then massage through to activate and cleanse. When applying after a workout, follow with a blow dryer.
Ingredients: 
Glycerin, Naturally occurring humectant that helps hair retain moisture by maintaining the water balance of hair.
Silica, Micro nutrient that improves tensile strength and condition of hair.
Castor Oil, An effective humectant that draws moisture into the hair and keeps hair looking soft and shiny. Prevents dry scalp and deep conditions hair and scalp. Adds fullness and shine to hair; stops frizziness and improves hair health.
---
We Also Recommend
---